Pinterest is all the rave now. What is it? According to their website it is "lets you organize and share all the beautiful things you find on the web. People use pinboards to plan their weddings, decorate their homes, and organize their favorite recipes. Best of all, you can browse pinboards created by other people. Browsing pinboards is a fun way to discover new things and get inspiration from people who share your interests." 
Sound cool? Well see how to best use it!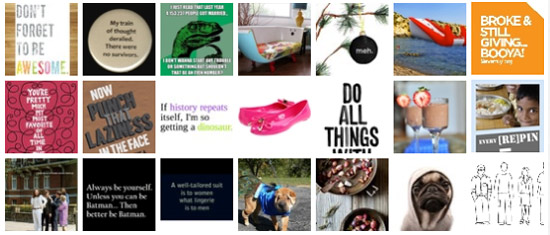 Company logos? No. Curating inspiration? Yes.
Have you gone to a buffet in Las Vegas? What did you see first? The delicious food or the menu? What catches your attention in an art gallery? The magnificent art or the biography of the painter?
Pinterest is like an Ambercombie and Fitch store. Display stimulating eye candy and people will stop and notice.
You are what you pin
The popularity of Pinterest these past couple of months has drawn newbies to the social platform that was once dominated by women – but this also brings more "meh."
What you pin onto your boards tells a lot about your interests and personality. If you pin "meh", then people will think you're boring. But if you pin awesome creative art, deigns, photos and puppies that stir emotions, then people will think of you as a dazzling person and will more than likely follow you.
Pinterest is about curating inspiration.
What not to pin on Pinterest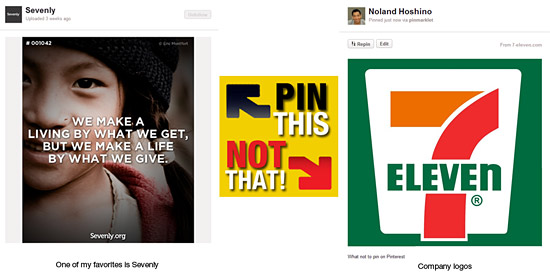 Company logos
Long paragraphs
Tweets from Twitter
Small images
Enormously long infographics — instead, cut out sections that are interesting
Anything that violates Pinterest's terms of use
Pictures paint a thousand words. Seek your inner Martha Stewart or Picasso and inspire others. What types of photos or designs inspire you?
This work is licensed under a Creative Commons. Original by Socialbrite